Soldier Honored: Nicholas P. Brown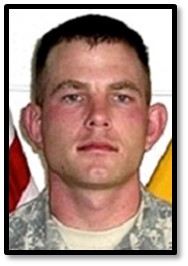 Dates:
January 22, 2007
Hometown:
Huber Heights, OH
Branch of Service:
Army
Rank:
Specialist
Army Specialist Nicholas P. Brown, 24, of Huber Heights, Ohio was assigned to 2nd Battalion, 7th Cavalry Regiment, 4th Brigade Combat Team, 1st Cavalry Division of Fort Bliss, Tex. On January 22, 2007, in Mosul, he was driving the lead vehicle in a convoy headed into a bad neighborhood, and lost his life when an improvised explosive device detonated near his vehicle.

A Vandalia-Butler High School graduate, SPC Brown joined the Army Reserves in 2001 before switching to active duty in November of 2004. He was very proud to serve his country and enjoyed playing pool, being with friends, and taking care of his family. In late October 2006, SPC Brown deployed to Iraq. In January 2007, just eight days before his death, SPC Brown came home on a brief leave to see his newborn son.

In the circumstances of SPC Brown's death, he was driving the lead vehicle of a convoy, "in the most dangerous spot a soldier could be." For that reason, his Army brothers "gave him the supreme compliment. They called him 'warrior.'" The title is used within the Army to show respect for good fighters who also demonstrate a strongly moral, human side. SPC Brown was posthumously awarded the Purple Heart and Bronze Star.

SPC Brown is survived by a wife and son, who is a Folds of Honor scholarship recipient.