Soldier Honored: Alberto D. Montrond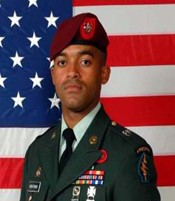 Dates:
Hometown:
Branch of Service:
Army
Rank:
Sergeant
Sergeant Alberto D. Montrond, 27, of Suffolk, Mass., was assigned to the Group Support Battalion, 7th Special Forces Group, Fort Bragg, N.C., and served during Operation Enduring Freedom. On February 13, 2006, SGT Montrond was killed during combat operations near Deh Rawod, Afghanistan.

A 1996 immigrant from Cape Verde, Africa SGT Montrond attended high school in Boston and enlisted in the Army in July 1998 as a quartermaster and chemical equipment repairer. After completing his specialty and airborne training, he was assigned to Fort Bragg, N.C. In June 2002, Montrond was promoted to the rank of sergeant and assigned to the 528th Special Operations Support Battalion (Airborne), U.S. Army Special Operations Support Command. He was posthumously awarded the Bronze Star Medal for valor, the Purple Heart, the Meritorious Service Medal, and the Combat Action Badge.

"My father was extraordinary," SGT Montrond's daughter said. "He was someone that wanted nothing but the best for the people around him. My father and I's relationship was irreplaceable, unconditional, and overall loving in every way. My father took me under his wing free willingly when he did not have to. My father adopted me and loved me as his own and I could not be more grateful for that. My father's character and devotion to being a father is something I pray many people strive to be like."

SGT Montrond's daughter is a Folds of Honor Scholarship recipient.