Soldier Honored: Shawn P. Martin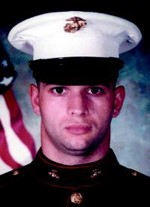 Dates:
Hometown:
Branch of Service:
Marine Corps
Rank:
Sergeant
Sergeant Shawn P. Martin, 30, of Delmar, N.Y., was assigned to the Combat Logistics Battalion 13, 13th Marine Expeditionary Unit, I Marine Expeditionary Force at Camp Pendleton, Calif. He served during Operation Iraqi Freedom. On June 20, 2007, Sgt. Martin was killed while conducting combat operations in Saqlawiyah, Iraq.

Sgt. Martin was a 1995 graduate of Bethlehem Central High School, where he was a member of the varsity football team. He was involved in scouting, played baseball with Tri-Village Little League, and pursued his black belt in Tae Kwon Do. Sgt. Martin was a member of the Elsmere Fire Department, where he volunteered with his father. He enlisted in the Marine Corps in February 2000, was promoted to sergeant in 2004 and served as an elite member of the Marines Explosive Ordinance Disposal Team. Sgt. Martin was posthumously awarded the Purple Heart and Bronze Star Medals.

In 1999, Sgt. Martin went out on nearly forty fire calls, where his colleagues learned a lot about his character. He approached firefighting with the same energetic enthusiasm he did in life. He pushed people out of the way so he could be the first inside the burning building. "He wanted to be the guy going in and taking care of everybody. He would do whatever he needed to do to get the job done," said Elsmere fire captain Rick Zigrosser.

Sgt. Martin's wife is a Folds of Honor Scholarship recipient.