Soldier Honored: Michael J. Donahue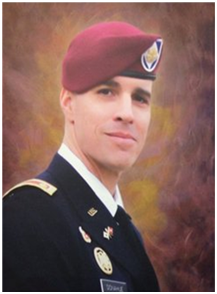 Dates:
Hometown:
Branch of Service:
Army
Rank:
Major
Major Michael J. Donahue, 41, of Columbus, Ohio, was assigned to Headquarters Battalion, XVIII Airborne Corps, Fort Bragg, N.C., and served during Operation Enduring Freedom.  On September 16, 2014, Maj. Donahue was killed in a suicide car bomb attack in Kabul, Afghanistan.

Maj. Donahue enlisted in the Army in February 1996. In April 2000, he graduated from Army Officer Candidate School and in 2003, entered the Army degree completion program, graduating Magna Cum Laude from Campbell University. He served three combat tours of duty in South Korea, Iraq and Afghanistan and was planning to return to Ohio after finishing his tour to Afghanistan. The highly decorated paratrooper was posthumously awarded a second Purple Heart, a fourth Bronze Star and a fifth Meritorious Service Medal.

"My dad was everything that represents goodness in the world," Maj. Donahue's daughter said. "He was selfless, loved deeply and widely, and never failed to bring smiles to people's faces. My dad inspired me so much and continues to do so. He was genuine with others and lived by the quote, "Every day is a good day." To him, this meant that every day is an opportunity to utilize resources around us to live a life with love, adventure, and trying our best."

One of Maj. Donahue's daughters and his son are Folds of Honor Scholarship recipients.