Soldier Honored: Joshua M. McClimans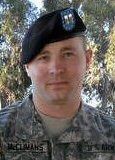 Dates:
Hometown:
Branch of Service:
Army
Rank:
Captain
Army Captain Joshua M. McClimans, 30, of Akron, Ohio, was assigned to 848th Forward Surgical Team, U.S. Army Reserve, Twinsburg, Ohio and served during Operation ENDURING FREEDOM.  On April 22, 2011, Capt McClimans died of wounds he suffered when insurgents attacked his unit with indirect fire at the Forward Operating Base in Salerno, Afghanistan.

Capt McClimans was a 1998 graduate of Jamestown High School, where he was active in wrestling, baseball and cross country. He graduated from the University of Akron in 2003 with a degree in Nursing.  Capt McClimans worked as an intensive care nurse at Summa Western Reserve Hospital and deployed as a Surgical Nurse with the 256th Combat Support Hospital.  Awards Capt McClimans received include the Purple Heart, National Defense Service Medal, Afghanistan Campaign medal.

"Joshua told me his junior year in high school that he wanted to be a nurse," said Esther McClimans, his grandmother.  "That did not surprise me, because he was such a caring young man.  But being a father was the job he loved the most."  "Josh was an amazing dad and his commitment to our country didn't stop him from being so involved in our children's lives," his wife, Amanda, said.  "He coached all of our son's sports, was a room dad to both kids, a boy scout dad and he rarely missed our daughter's cheerleading games."

CPT McClimans' daughter and son are Folds of Honor scholarship recipients.