Soldier Honored: James W. Ponder III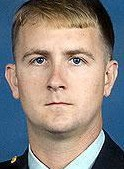 Dates:
Hometown:
Branch of Service:
Army
Rank:
Master Sergeant
Assigned to Headquarters Company, 160th Special Operations Aviation Regiment (Airborne) based out of Fort Campbell, Kentucky, Master Sergeant James Ponder was known as a no-nonsense kind of soldier when in the field. Those who served with him knew Ponder as a capable and experienced pilot, and when the chips were down, he was just the guy you wanted on your team. Master Sergeant Ponder, called "Trey" by family and friends because he was the third to carry his family name, attended Auburn University before enlisting in the Army in 1990 and joining a Special Forces unit to pilot Chinook helicopters.

Known as Night Stalkers, the 160th is an elite squadron intended to transport Special Forces units around the globe by night in specially modified helicopters. On loan for a short-term deployment to the 160th out of Hunter Army Airfield in Georgia, Master Sergeant Ponder was to assist with ferrying personnel to be inserted into al-Qaida held territory. On the evening of June 28, 2005, seven soldiers attached to Ponder's company along with an eight-man Navy SEAL team were being flown to a forward operating base in the Kunar Province of Afghanistan when the Chinook was struck with several enemy launched rocket-propelled grenades. The chopper crashed, killing all sixteen on board. Ponder, a Franklin, Tennessee native, was awarded the Bronze Star, Purple Heart and the Air Medal for Valor.

MSG Ponder's daughter is a Folds of Honor scholarship recipient.