Soldier Honored: Johnathan B. McCain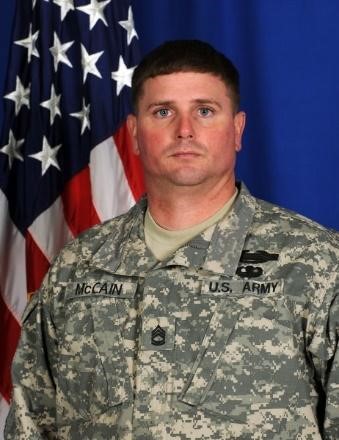 Dates:
Hometown:
Branch of Service:
Army
Rank:
Sergeant First Class
Sergeant First Class Johnathan B. McCain, 38, of Apache Junction, Arizona, was assigned to 1st Battalion, 5th Infantry Regiment, 1st Stryker Brigade Combat Team, 25th Infantry Division based in Fort Wainwright, Alaska and served during Operation ENDURING FREEDOM. On November 13, 2011, SFC McCain died of injuries caused by an improvised explosive device in Talukan, Kandahar province, Afghanistan.

It was no surprise to his family when SFC McCain graduated from Chandler High School in 1992 that he would soon enlist in the Army. Since he was a little boy, he always wanted to serve his country. He served in Kaiserlautern, Germany, Fort Hood, Texas and Fort Bragg, North Carolina before arriving in Alaska in 2000. During his career, he had previously been deployed to Iraq twice, where he had been injured in a mortar attack. SFC McCain's awards include four Bronze Stars and a Purple Heart for his service and sacrifice.

SFC McCain was an avid bow hunter and a talented artist.  His work was featured in a 2009 military publication with a photo showing him autographing a print he drew for fellow soldiers in Iraq. He also took beautiful photos of mosques in the towns of Baqubah and Khan Bani Sa'ed which he shared with his close family.

SFC McCain's wife, Leeanne, and their four children are Folds of Honor Scholarship recipients.