Soldier Honored: Benjamin J. Palmer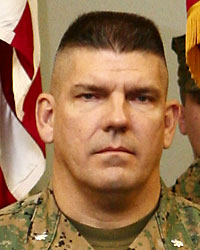 Dates:
Hometown:
Branch of Service:
Marine Corps
Rank:
Lieutenant Colonel
USMC Lieutenant Colonel Benjamin J. Palmer, 43, of Modesto, California, was assigned to Marine Wing Headquarters Squadron 2, 2nd Marine Aircraft Wing, II Marine Expeditionary Force based out of Cherry Point, North Carolina and served during Operation ENDURING FREEDOM.  On May 12, 2011, LtCol Palmer and another U.S. Marine died while supporting combat operations at Camp Dwyer in the Helmand province of Afghanistan.

LtCol Palmer graduated from Downey High School in Modesto, California in 1986. He obtained a bachelor's degree in Humanities from California State University in Sacramento and a master's degree from the University of Central Michigan. Palmer's personal decorations included the Defense Meritorious Service Medal, Meritorious Service Medal, Republic of Korea Joint Service Commendation Medal, Navy and Marine Corps Commendation Medal with two gold stars and the Navy and Marine Corps Achievement Medal with gold star for his service and sacrifice.

"You don't realize how much someone means to you until they're gone," said 1st Lt. Joel R. Searls, a close battle coordinator with MTACS-28. "I worked for Lt. Col. Palmer at 2nd LAAD as a platoon commander, adjutant, safety officer and battery executive officer. He was my battalion commanding officer and he was very down-to-earth. You could talk to him about any problem that you had."

LtCol Palmer's daughter is a Folds of Honor Scholarship recipient.