Soldier Honored: Dennis M. White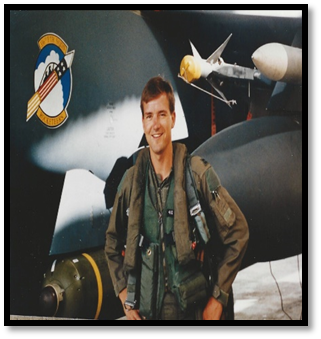 Dates:
Hometown:
Branch of Service:
Air Force
Rank:
Captain
Air Force Captain Dennis M. White, a native of Lees Summit, Missouri, was assigned to the 336th Fighter Squadron at Seymour Johnson Air Force Base, North Carolina.  Capt. White fought during both Operations DESERT STORM and DESERT SHIELD logging a total of 2,200 flying hours.   On April 18, 1995, Capt. White, a weapon systems officer (WSO), was killed when the F-15E in which he was flying went down off the North Carolina coast.  A second pilot in the F-15E was injured.

The pilot, Capt. Brian Udell and the WSO, Capt. Dennis White were participating in a night air-to-air combat exercise, when the aircraft's HUD malfunctioned and presented false attitude information to the pilot. Based on the HUD information, Capt. Udell thought they were in a banked turn while the aircraft accelerated downwards in a steep dive. Capt. Udell realized the HUD malfunction seconds before the aircraft crashed into the Atlantic Ocean and initiated a high-speed ejection at 780 mph at low altitude (4500 feet AGL). Capt. White died during the ejection; Capt. Udell suffered severe injuries but survived.

Capt. White's decorations include the Air Medal with five oak leaf clusters, National Defense Service Medal, Air Force Longevity Award, Kuwait Liberation Medal (Saudi Arabia), and Kuwait Liberation Medal (Emirate of Kuwait), for his service and sacrifice.

Capt. White's son and daughter are Folds of Honor Scholarship recipients.