Soldier Honored: Andrew P. Carpenter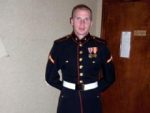 Dates:
Hometown:
Branch of Service:
Marine Corps
Rank:
Lance Corporal
Lance Corporal Andrew P. Carpenter, 27, of Columbia, Tennessee, was assigned to the 3rd Battalion, 8th Marines, 2nd Marine Division, II Marine Expeditionary Force at Camp Lejeune, North Carolina and served under Operation ENDURING FREEDOM. On February 19, 2011, LCpl Carpenter succumbed to injuries he received after he was shot in the neck while conducting combat operations in the Helmand province of Afghanistan.

LCpl Carpenter was a 2002 graduate of Columbia Central High school, and furthered his education at Middle Tennessee State University in Murfreesboro, Tennessee.  With a deep love for his country, he joined the United States Marines in 2007. During his time with the Marines, LCpl Carpenter earned the Purple Heart, Combat Action Ribbon, Marine Corps Good Conduct Medal, and National Defense Service Medal for his service and sacrifice.

Not only was he important to his family, but to his many friends and to his community as well. He worked with the YMCA as a Site Director for the After-School Program for the Fun Club. The Director of the YMCA stated, "All the kids loved him, and he definitely made a huge impact on the kids. He was always fun to be with and was a team player." LCpl Carpenter never had the chance to meet his son.

LCpl Carpenter's wife, Crissy, is a Folds of Honor Scholarship recipient.