Soldier Honored: Arthur A. Mora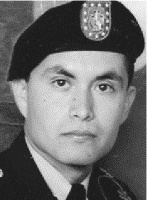 Dates:
Hometown:
Branch of Service:
Army
Rank:
Sergeant
Army Sergeant Arthur A. Mora, Jr, 23, of Pico Rivera, California, was assigned to the 5th Squadron, 7th Cavalry Regiment, 1st Brigade Combat Team, 3rd Infantry Division based in Fort Stewart, Georgia and served during Operation IRAQI FREEDOM. On October 19, 2005, while on patrol near Balad, Iraq, SGT Mora and two other soldiers were killed when their Humvee was destroyed by a roadside bomb fashioned out of three artillery shells - each one the size of a large fire extinguisher.

Mora was one of four children raised by a single mother and a large extended family. He graduated from El Rancho High School in Pico Rivera California in 2000. Shortly after graduation, he enlisted in the Army. SGT Mora was awarded many medals and accolades, including a Bronze Star and Purple Heart posthumously, for his service and sacrifice.

SGT Mora's passion for the military was sparked at age 6 when he paid a visit to the American Military Museum in South El Monte, California. "When he saw all the tanks, he fell in love with the idea of joining the Army," his mother, Sylvia Mora, said. "The family's one comfort is knowing he was doing what he wanted when he died," said his older sister. "He wouldn't have changed what he was doing for anything. He loved the military and he would have made a career out of it."

One of SGT Mora's daughters is a Folds of Honor Scholarship recipient.