Soldier Honored: Scott A. McIntosh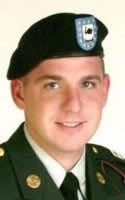 Dates:
Hometown:
Branch of Service:
Army
Rank:
Cpl.
Army Corporal Scott A. McIntosh, of Humble, Texas, was assigned to the 1st Battalion, 64th Armor Regiment, 2nd Brigade Combat Team, 3rd Infantry Division, in Fort Stewart, GA. He was killed in Baghdad of wounds sustained when a suicide bomber detonated an explosive device on March 10, 2008.

Scott McIntosh was born on February 2, 1982 and graduated from Cypress High School in 2001. After attending college for a short time, he joined the United States Army. He re-enlisted when his first tour of duty was over. He was awarded the Purple Heart and the Bronze Star for his brave service.

CPL McIntosh was a loyal and courageous soldier, beloved son, caring brother and friend to many. Mcintosh's father said, "we are bursting with pride for our son's service to this country. We understand the sacrifices required to keep this country free. And Scott was the best son anyone could ever have asked for. I will love and cherish him for the rest of my days." He was described as a lover of all people. CPL McIntosh's mission in life was to meet and make friends with every person he met. Not only did he love to laugh, but he truly cared about others, especially his family in Texas. CPL McIntosh was always looking out for other people, and that's why he joined the United States Army.