Soldier Honored: Richard J. Gannon II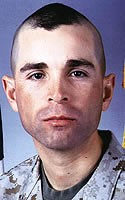 Dates:
Hometown:
Branch of Service:
Marine Corps
Rank:
Maj.
Marine Corps Major Richard J. Gannon II, 31, of Escondido, California, was assigned to the 3rd Battalion, 7th Marine Regiment, 1st Marine Division, 1 Marine Expeditionary Force, at Twentynine Palms, California. Major Gannon was an experienced officer and was assigned company commander of the 3rd Battalion Lima Company. Maj Gannon was one of four Marines killed in action on April 17, 2004 while serving his country in Operation Iraqi Freedom in Anbar province, Iraq.

Major Gannon was born and raised in the north San Diego suburb of Escondido. He attended Cornell University on a Navy scholarship, graduating in 3 years with a double major in political science and history. He then attended the Naval Academy for advanced leadership courses. Maj Gannon was posthumously awarded the Bronze Star Medal, Purple Heart and Meritorious Service Medal. "He was a very goal-oriented person, but he matured beyond achievement," his father said. "He was an exemplary leader.... When he was with you, he was present, which is a very rare quality with young people."

Major Gannon's son is a Folds of Honor Children's Fund scholarship recipient.