Soldier Honored: Michael J. McMahon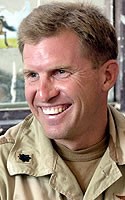 Dates:
Hometown:
Branch of Service:
Army
Rank:
Lt. Col
Army Lieutenant Colonel Michael J. McMahon, 41, of West Hartford, Connecticut was assigned to the 3rd Squadron, 4th Cavalry Regiment, 25th Infantry Division (Light), Schofield Barracks, Hawaii.  He became the leader of the squadron at Schofield Barracks in June 2003 after having served in Europe and Korea.  He commanded Task Force Saber in Afghanistan, which covered the western part of the country.  His troops were responsible for provincial reconstruction teams supporting security and reconstruction efforts in the cities of Herat and Farah.  On November 27, 2004, Lt. Col. McMahon, two other soldiers, and three civilian crew members were flying in a fixed-wing CASA 212 plane over the Hindu Kush mountains when it crashed, killing all on board.

Born in Fort Campbell, Kentucky, Michael McMahon was the son of a Lieutenant Colonel.  He graduated from Conard High School in 1981 and went on to graduate from the United States Military Academy in 1985, where he was commissioned in the aviation branch.  He and his wife, who is also a Lt. Col. have three children.  "He was a man who loved his troops and would take care of them," said his sister.

Lt. Col. McMahon left behind a wife and three children, one of which is a Folds of Honor scholarship recipient.