Soldier Honored: Eric J. Lindstrom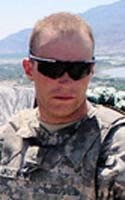 Dates:
Hometown:
Branch of Service:
Army
Rank:
Staff Sgt.
Army Staff Sergeant Eric J. Lindstrom of Flagstaff, Arizona, was assigned to the 1st Battalion, 32nd Infantry Regiment, 3rd Brigade Combat Team, 10th Mountain Division (Light Infantry), Fort Drum, New York.  He was serving as an Infantryman in Afghanistan under Operation Enduring Freedom when on July 12, 2009 SSG Lindstrom was killed when insurgents attacked his dismounted patrol using small arms and indirect fire.  He was 27 years old.

Active in Boy Scout Troop No. 33, Eric Lindstrom achieved the rank of Eagle Scout.  He graduated from Flagstaff High School and joined the Army in 1999. After four years serving in the Army that included a tour of duty in Iraq, he returned home to become a Flagstaff Police Officer.  After four years serving the city of Flagstaff, he re-enlisted in the Army.  His mother said, "He had a wonderful sense of humor and was one of the most grounded and rational people you could hope to meet. He loved his daughters."

SSG Lindstrom's twin daughters are recipients of the Folds of Honor Children's Fund scholarship.