Soldier Honored: Kristofferson B. Lorenzo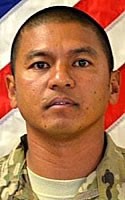 Dates:
Hometown:
Branch of Service:
Army
Rank:
Staff Sgt.
U.S. Army Staff Sergeant Kristofferson B. Lorenzo, 33, of Chula Vista, California was assigned to 2nd Battalion, 27th Infantry Regiment, 3rd Brigade Combat Team, 25th Infantry Division, Schofield Barracks, Hawaii. He was serving as an Infantryman in Afghanistan during Operation Enduring Freedom.  On May 23, 2011 SSG Lorenzo and three soldiers were killed when their unit was attacked by enemy forces using an improvised explosive device.

Kristofferson Lorenzo was a graduate of Mount Miguel High School. He enlisted in the U.S. Army in September 2000 with several high school buddies. While Lorenzo didn't always like it, his wife said, "He was very good at being a soldier. We prepared ourselves, we talked about it, and that's why I am able to live life because he told me that I will be strong for the kids even without him."  SSG Lorenzo's greatest pleasures were family, friends and good food.  He also enjoyed meeting others and took great pride in his ancestry, striking up conversations with complete strangers about his Filipino heritage.

SSG Lorenzo's two sons are the recipients of the Folds of Honor Children's Fund Scholarship.