Soldier Honored: David J. P. Thompson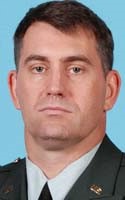 Dates:
Hometown:
Branch of Service:
Army
Rank:
Capt.
Army Captain David Johnpaul Thompson was from Hooker, Oklahoma. He was assigned to the 3rd Battalion 3rd Special Forces Group, Fort Bragg, North Carolina. CPT Thompson was killed on January 29, 2010 at Forward Operating Base Nunez, Afghanistan of injuries sustained while supporting combat operations. He was 39 years old.

David Thompson enlisted in the Army in 1989. Starting a career in the North Carolina Guard that took him from places like South Carolina to Alaska. His assignments included humanitarian aid deployments. He attended East Carolina University from 1999 to 2002 where he earned a bachelor's degree in chemistry. He would later commission as a chemical officer.

Survived by his wife and two daughters, CPT Thompson's girls are both Folds of Honor scholarship recipients.