Soldier Honored: John L. Hallett III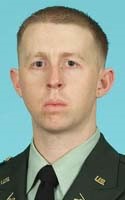 Dates:
Hometown:
Branch of Service:
Army
Rank:
Capt.
Captain John Hallett III, 30, of Concord, California was killed on August 25, 2009 while on his way back to base after a humanitarian mission near Sha Wali Kot, Afghanistan. Captain Hallett was in a vehicle that encountered an improvised explosive device after delivering medicine to quell a cholera outbreak.  The device killed Captain Hallet and the three soldiers who accompanied him.

"Captain John Louis Hallett, III was an amazing father and a devoted and joyful husband who always put the needs of others above his own.  He had the warmest and most genuine smile.  John would always make people laugh by his clever ways and kind humor and his amazing example and memories will live on and guide his three children," his wife said.  "He was very passionate about what he did for the military, but he wasn't a blow-it-up kind of guy. He wanted to work with communities and try to make Afghanistan a better place to live."

All three Hallett children have been awarded Future Use Scholarships from Folds of Honor. Two of his children are Folds of Honor Scholarship recipients.