Soldier Honored: Stephen Del Bagno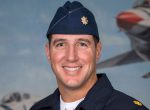 Dates:
Hometown:
Branch of Service:
Air Force
Rank:
Major
United States Air Force Major Stephen "Cajun" Del Bagno of Valencia, California, was a member of the Thunderbirds, stationed at Nellis Air Force Base in Las Vegas, Nevada. A graduate of Utah Valley State University, Del Bagno began his Air Force career as a commissioned officer in 2007. He was serving as an aerial demonstration pilot when he lost his life on April 4, 2018 during a routine training exercise. Del Bagno lost consciousness while performing the "High Bomb Burst Rejoin" maneuverer between 5,500 and 5,700 feet of altitude. While coming out of the maneuver, Del Bagno experienced over 8G's and was unable to recover before crashing without an ejection attempt. Unfortunately, the F-16 Fighting Falcon that Del Bagno was piloting did not have a collision avoidance system that could have potentially saved his life.



Major Del Bagno will be remembered for his leadership, amazing flying abilities, kindness, and passion.