Soldier Honored: Horst G. Moore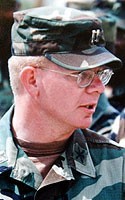 Dates:
Hometown:
Branch of Service:
Army
Rank:
Maj.
U.S. Army Major Horst G. Moore of San Antonio, Texas, was assigned to the 1st Battalion, 24th Infantry Regiment, 1st Brigade, 25th Infantry Division (Stryker Brigade Combat Team), of Fort Lewis, Washington.  He was serving as an Air Defense Artillery Officer in Iraq under Operation Iraqi Freedom.  On November 9, 2004, MAJ Moore was killed when enemy mortar rounds detonated within his unit's living area.  He was 38 years old.

Born into a military family in Berlin, Germany Horst Moore was raised in Oklahoma.  He was a career soldier whose 16 years of service started right after high school and was interrupted only to pursue a college degree.  When he was home, he loved to spend time with his two-year-old daughter.  "Major Moore was the kind of leader any soldier would follow," said Army Master Sergeant Cheryl Staffa. "The kind of leader who didn't just read The One-Minute Manager; he actually put his principles in practice.  He always had a word of praise for soldiers who had done things correctly and a smile or a joke when anyone needed cheering up."

MAJ Moore's daughter is a recipient of the Folds of Honor Children's Fund scholarship.