Soldier Honored: Michael J. Donahue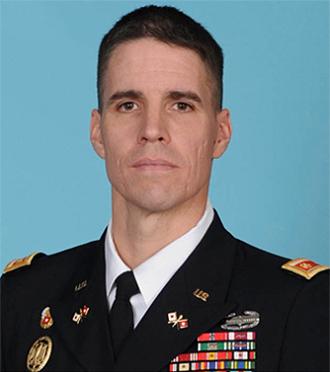 Dates:
1973-September 16, 2014
Hometown:
Massachusetts
Branch of Service:
Army
Rank:
Major
Major Michael Donahue, 41, a Massachusetts native, was clearly the kind of person who upheld himself to rigorous standards, pushed his mind and body further than most could dream of as a hobby, and dedicated his life to the service of his country. He had one remaining military goal – to attend Ranger School. Major Donahue was assigned to Headquarters Battalion, XVIII Airborne Corps, Fort Bragg, North Carolina, and was on his third combat tour. He died September 16, 2014 of wounds sustained when his convoy was attacked by a suicide bomber outside a coalition base in Kabul, Afghanistan.

A Boston Red Sox fan and 1990 graduate of Whitman-Hanson Regional High School, Major Donahue enlisted in the Army in 1995. In 2000, he graduated from Army Officer Candidate School. In 2003, he entered the Army degree completion program and graduated Magna Cum Laude from Campbell University. Along with his military endeavors, Major Donahue ran in a 100K ultra-marathon called "Hell's Gate" in the Appalachian Mountains.

Major Donahue is survived by his wife of 18 years and three children, two of which are Folds of Honor scholarship recipients.