Soldier Honored: Michael J. Clark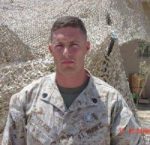 Dates:
1974-July 20th, 2004
Hometown:
Daytona Beach, Florida
Branch of Service:
Marine Corps
Rank:
Gunnery Sergeant
Gunnery Sergeant Michael J. Clark was born in Daytona Beach, Florida on July 25, 1974. He enlisted in the United States Marine Corps in April 1993 after graduating from Leesburg High School. Clark attended Aviation Ordnance man training in Millington, Tennessee and then received orders to Explosive Ordnance Disposal School at Eglin Air Force Base in Florida where he graduated with honors. During his off-duty time, Gunnery Sergeant Clark attended courses at Military Academy West Point, completing a Bachelor's Degree in Psychology. An 11-year Marine Corps veteran, Gunnery Sergeant Clark, age 29, returned to Iraq in February 2004 as an EOD Team Leader assigned to Combat Service Support Battalion-1 in Fallujah, Iraq. It was his second tour to Iraq. He was killed on July 20th, 2004 in the Anbar Province when he approached a suspicious vehicle and it detonated.

As a young man, Clark liked playing sports and loved playing pool, according to his mother. He also liked helping take care of his brothers and sisters.

Gunnery Sergeant Clark is survived by his wife and two daughters, both of which are Folds of Honor scholarship recipients.