Soldier Honored: Benjamin B. Tollefson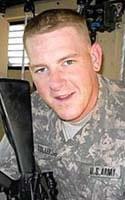 Dates:
1986-December 31, 2008
Hometown:
Walnut Creek, California
Branch of Service:
Army
Rank:
Private First Class
Private First Class (PFC) Benjamin Tollefson, 22, first mentioned the Army when he was a sophomore at Berean Christian High School in the Bay Area city of Walnut Creek. He enlisted in August 2007 as an infantryman and in 2008 was assigned to the Special Troops Battalion, 2nd Heavy Brigade Combat Team, 1st Infantry Division based in Fort Riley, Kansas. PFC Tollefson was in his first tour of duty in Iraq when his unit was hit with a mortar attack by insurgents in northwest Baghdad's Ghazaliya neighborhood. He died December 31, 2008 from wounds suffered during the attack.

A 2005 high school graduate, PFC Tollefson was a defensive lineman on the football team who enjoyed taking an annual hike, talking about school, music, girls and football with his best friend Cory Renfrow. Following graduation, he held various odd jobs and, as friends described it, seemed lost when it came to focusing on a career. PFC Tollefson eventually shared an apartment with his long-time friend Renfrow and worked at a mortgage loan company. When the company folded, he moved back north to live with his parents in Concord, California. A few weeks later, he joined the Army. While in boot camp, PFC Tollefson got word from his girlfriend that she was expecting.
They married in December 2007 and their son was born four months later. Shortly after, PFC Tollefson was assigned to Fort Riley where he and his new family lived for a few months before his deployment.

"More than anything, Ben wanted to provide for his family, and he knew the military would be able to do that," said his mother. "I've never seen a person love their kid as much as he loved his son. That is what I want my grandson to know, how much his dad loved him." PFC Tollefson is survived by his wife and son, who is a Folds of Honor Children's Fund scholarship recipient.