Soldier Honored: Thomas A. Crowell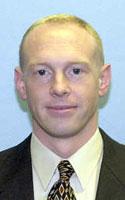 Dates:
1971-November 1, 2007
Hometown:
Neosho, Missouri
Branch of Service:
Air Force
Rank:
Master Sergeant
Air Force Master Sergeant Thomas Alfred Crowell, 36, served in the Air Force for almost 18 years. Crowell was a special agent having very sharp skills in criminal investigation and counter intelligence. He had served in law enforcement for 15 years. Thomas served in Operations Desert Shield and Desert Storm as well as Operation Restore Hope II.

The vehicle that Crowell was travelling in on November 1, 2007 was struck by an improvised explosive device near Balad Air Base, Iraq, killing Master Sergeant Crowell along with two other men. Crowell was seven months from retirement where he was to return and obtain a career in corporate security along with earning a college degree. His mother states that he did not have to be in the vehicle but he cared so much for his men that he was willing to put himself in harm's way.

Crowell grew up in Neosho, Missouri where he graduated high school in 1989. Crowell ran track and was remembered as a good student. He was known to be "very proud" of his position as a special agent and was very skilled with his work. He was posthumously awarded the Bronze Star, Purple Heart, Meritorious Service Award, and the Air Force Combat Action Medal. He is survived by his wife and two boys whom are Folds of Honor recipients of the Children's scholarship as well as the Future Use scholarship.