Soldier Honored: David J. Hart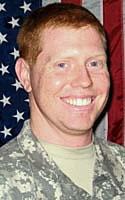 Dates:
1986-January 8, 2008
Hometown:
Lake View Terrace, California
Branch of Service:
Army
Rank:
Sergeant
Hart joined the Army at the age of 18 after circling the globe with his missionary parents. During those travels, Hart learned about diverse cultures that helped him have a deeper understanding of how the world worked, giving him an advantage over other soldiers his age. The 22-year-old from Lake View Terrace, California died along with two of his fellow soldiers on January 8, 2008 from wounds sustained during combat operations near Samarra, Iraq.

Hart's father, Jack, said during his memorial service that his son lived up to his name, which in Hebrew means "well beloved". SPC. Richard Gilbert, who served alongside Hart, said his buddy was known to sacrifice personally in order to help others succeed. He is survived by his wife, Nicole.