Soldier Honored: Wesley C. Fortenberry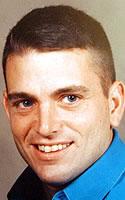 Dates:
1966-April 11, 2004
Hometown:
Woodville, Texas
Branch of Service:
Army
Rank:
Chief Warrant Officer 3
On April 11, 2004, Apache helicopter pilot Chief Warrant Officer 3 Wesley Fortenberry was on a reconnaissance mission near Baghdad. After receiving a distress call from a fuel-replenishing convoy heading for the violence-wracked city of Fallujah, Fortenberry rushed to aid the convoy and opened fire on the enemy. Even after his chopper was shot down, he continued firing. Although Fortenberry and his co-pilot died during the skirmish, all of the soldiers in the convoy survived.

A native of Woodville, Texas, the 38-year-old joined the Army in 1984. Stationed out of Fort Hood, Texas, he was a 19-year veteran and was posthumously presented the Distinguished Flying Cross for his exceptional courage and valor, skill, bravery and tenacity in the face of direct enemy fire, saving countless American lives. He is survived by his wife, Cynthia, and two sons.