Soldier Honored: Kenneth J. Schall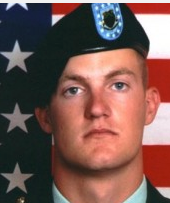 Dates:
1983-May 22, 2005
Hometown:
Peoria, Arizona
Branch of Service:
Army
Rank:
Sergeant
Army Sergeant Kenneth J. Schall, of Peoria, Arizona, was assigned to the 2nd Battalion, 70th Armor Regiment, 3rd Brigade, 1st Armored Division of Fort Riley, Kansas. SGT Schall deployed on his second tour of duty under Operation Iraqi Freedom in Yusafiyah, Iraq. On May 22, 2005, SGT Schall sacrificed his life when his High Mobility Multipurpose Wheeled Vehicle (Humvee) was involved in an accident. He was 22 years old.

SGT Schall graduated from Centennial High School in Peoria where he was an All-Conference golfer and five-time medalist. He was an all-around athlete and enjoyed fishing, snowboarding, basketball and baseball. He entered Glendale Community College and completed his Associate Arts degree in 2003. Moved by the events of 9/11, he enlisted in the Army. In January 2005 he was recognized for his leadership abilities and promoted to Sergeant. Pictures from Iraq would show him playing soccer or handing out candy to local children. "It was very tough not to be touched by him in some way," his mother said. SGT Schall hoped to finish his tour and return to civil service in Phoenix, either with the fire department or police department bomb squad.