Soldier Honored: Johnathan B. McCain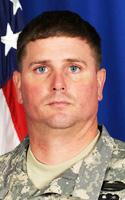 Dates:
1973-November 13, 2011
Hometown:
Chandler, Arizona
Branch of Service:
Army
Rank:
Sergeant First Class
Sergeant First Class (SFC) Johnathan "Bryant" McCain, 38, was an avid bow hunter, fisherman and a talented artist who was assigned to the 1st Battalion, 5th Infantry Regiment, 1st Stryker Brigade Combat Team, 25th Infantry Division, Ft Wainwright, Alaska. His work was featured in a 2009 military publication with a photo showing him autographing a print he drew for fellow soldiers in Iraq. It was no surprise to McCain's family when he enlisted in the Army shortly after his graduation from Chandler High School in 1992. Since he was a little boy he always wanted to serve his country and according to his mother, "he lived like he wanted to live and died how he wanted to die" fighting for his country.

SFC McCain served in Kaiserlautern, Germany; Fort Hood, Texas; and Fort Brag, North Carolina before arriving in Alaska in 2000. During his career, he deployed to Iraq twice and was injured in a mortar attack during one of those tours. SFC McCain died November 13, 2011 in Kandahar Province, Afghanistan of injuries suffered from a roadside bomb while on mounted patrol.

SFC McCain is survived by his wife, two daughters and two sons. His two daughters are Folds of Honor Higher Education scholarship recipients.