Soldier Honored: Thomas K. Fogarty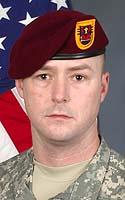 Dates:
May 6, 2012
Hometown:
Alameda, CA
Branch of Service:
Army
Rank:
Staff Sgt.
Staff Sergeant (SSG) Thomas "Tommy" Fogarty, 30, of Alameda, CA, joined the Army in January, 2004. He served two combat tours in Iraq before being deployed to Afghanistan in 2006. Entering the service as a private, SSG Fogarty excelled in his chosen career, rapidly rising to the rank of Staff Sergeant. He was a decorated soldier who attended many Army schools, including Airborne School and had served two combat tours in Iraq before being deployed to Afghanistan.

SSG Fogarty's last assignment was with 3rd Battalion, 509th Infantry Regiment, 4th Brigade Combat Team (Airborne), 25th Infantry Division, Joint Base Elmendorf-Richardson, Alaska. He died May 6, 2012, in Ahmad Kheyl, Afghanistan, during his third combat tour, from injuries caused by an improvised explosive device. SSG Fogarty is remembered by those he served with and those who served under him as a great leader who always led from the front and was a model Soldier. He was posthumously awarded the Purple Heart and Bronze Star Medal, which recognizes heroic service or meritorious achievement.

A courageous and dedicated soldier, a source of great pride to his parents, a loving husband and devoted father, a loyal brother, a cherished friend, and a lover of life, SSG Fogarty enjoyed snowboarding, mountain biking, fast cars and motorcycles.

SSG Fogarty is survived by his wife and two children.  His son is a Folds of Honor Children's Fund scholarship recipient.