Soldier Honored: Christopher S. Cash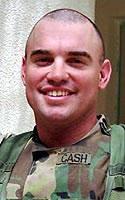 Dates:
June 24, 2004
Hometown:
Winterville, NC
Branch of Service:
Army
Rank:
Capt.
A member of the Army Nation Guard out of Jacksonville, NC, Cash was the commander of a Bradley Fighting Vehicle and was killed in action on June 24, 2004.  His unit was clearing passage for school children in Baqubah, Iraq when they came under attack by small-arms fire and rocket-propelled grenades.  Cash had opened the hatch of his vehicle and was relaying verbal directions to those on the outside when he was fatally injured.  Another soldier from the unit also lost his life in the attack.

Cash, 36, from Winterville, NC is survived by his wife, Dawn.  He had two sons from a previous marriage.  He was posthumously awarded the Bronze Star for meritorious service and the Purple Heart for being injured in combat.