Soldier Honored: Chris "Fireball" Cooper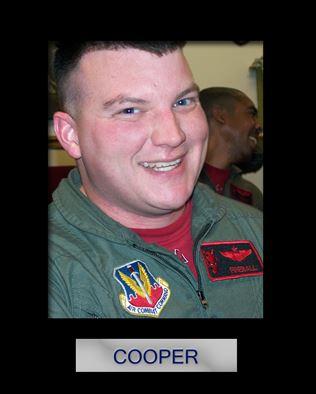 Dates:
July 21, 2008
Hometown:
Round Rock, Texas
Branch of Service:
Air Force
Rank:
Major
On July 21, 2008 Major Chris "Fireball" Cooper, 33, died in a B-52 crash off the coast of Guam. He was the aircraft commander and pilot in command. An aircraft system malfunction - an uncommanded "nose down" position on the horizontal stabilizer - caused the mishap.

Cooper of Round Rock, Texas was a Texas native before moving with his family to Messena, New York where he was a 1992 graduate of Massena Central School. He returned to Austin to attend the University of Texas, where he went through the Air Force ROTC program and was commissioned a second-lieutenant in 1997. He was an eleven year Air Force veteran whose uncle was also a B-52 pilot and a heavy influence in his decision to join the military service. The aircraft commander was stationed at Barksdale where he worked as an instructor pilot. He served two tours in Iraq and served with special operations in Afghanistan.

Major Cooper was a Command Pilot with 1885 hours of flying time including 16 combat hours. His awards include the Bronze Star, Meritorious Service Medal, Air Force Commendation Medal, Army Commendation Medal, Air Force Achievement Medal, and Army Achievement Medal.