Soldier Honored: Richard G. Cliff Jr.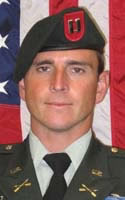 Dates:
Hometown:
Mount Pleasant, South California
Branch of Service:
Army
Rank:
Captain
Army Captain Richard G. Cliff Jr., 29, of Mount Pleasant, South Carolina, was assigned to the 1st Battalion, 7th Special Forces Group, based in Fort Bragg, North Carolina. In September 2008, he deployed on his third tour, in support of Operation Enduring Freedom as a member of the Combined Joint Special Operations Task Force Afghanistan. On September 29th, he died from wounds sustained when his vehicle encountered an improvised explosive device during mounted operations in Yakhchal, Afghanistan.

Captain Cliff graduated from Wando High School in 1997, where he wrestled, as well as in college. He graduated from Appalachian State University in 2002 where he was a member of Pi Kappa Alpha Fraternity and ROTC. Upon graduation, he was assigned to Fort Bragg. He completed two tours in Iraq and before his deployment in 2006 ended, Cliff was called home and invited to take the Special Forces Qualification Course. He had earned the Green Beret that summer.

In his spare time, he loved to be in the water. He was remembered as having a great sense of humor, always playing practical jokes on his friends, and living life to the fullest. He leaves behind his wife and one son.