Soldier Honored: Evander E. Andrews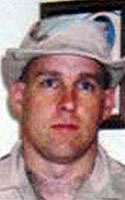 Dates:
Hometown:
Solon, Maine
Branch of Service:
Air Force
Rank:
Master Sergeant
Air Force Master Sergeant Evander Andrews, 36, of Solon, Maine, was assigned to the 366th Civil Engineering Squad, Mountain Home AFB, Idaho. He was killed on October 10th, 2001, in a heavy equipment accident in Qatar while supporting Operation Enduring Freedom.

His family raised cattle at the farm where he grew up. He helped his father work on trucks and big equipment, fixed engines, and rode motorcycles. Master Sergeant Evander Andrews entered the Air Force out of high school in his small hometown of Solon, Maine. In the Air Force, he operated bulldozers and the like, that was his passion, working around heavy equipment, teaching others like he had been taught.

He leaves behind his wife, Judy, who was enlisted in the Army, and their four children.