Soldier Honored: Gary A. Eckert, Jr.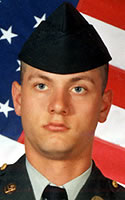 Dates:
Hometown:
Toledo, Ohio
Branch of Service:
Army
Rank:
Sergeant
Sergeant Gary A. Eckert, Jr., of Toledo, Ohio, was stationed in Balad, Iraq, during Operation Iraqi Freedom. On May 8th, 2005, he was killed in action when a roadside bomb exploded while his convoy was on a mission to recover a vehicle that had been damaged in an earlier raid. He was 24 years old.

Sergeant Eckert graduated from Anthony Wayne High School in 2000 where he played basketball. He studied horticulture at Penta Career Center and then studied history at Owens Community College before going into the Army. In 2003, he served 15 months in Iraq before being hit by a shrapnel from a roadside bomb. Sergeant Eckert was awarded the Purple Heart. He was known for "the smile that was always on his face and loving his family more than anything." Sergeant Eckert was "never in a bad mood, always there to help everybody." While in Iraq, Sergeant Eckert asked female soldiers to show him how to braid hair so he could handle his daughter when he returned home. Sergeant Eckert left behind wife, Tiffany, and two children.