Soldier Honored: Shawn C. Dostie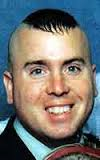 Dates:
Hometown:
Granite City, IL
Branch of Service:
Army
Rank:
Sergeant 1st Class
Sgt. 1st Class Shawn C. Dostie of Granite City, Ill joined the Army in 1991, straight out of high school. He grew up in a military family and wanted to follow in his father's footsteps. Dostie was a career soldier with 14 years of service under his belt at the time of his death. Sgt. 1st Class Dostie, assigned to the 2nd Battalion, 502nd Infantry Regiment, 2nd Brigade Combat Team attached to the 101st Airborne Division out of Fort Campbell, KY understood the dangers of being deployed to Baghdad, Iraq, but he knew it was his job to protect the 12 other men and women in his platoon. His career in the Army taught him the value of service and protecting those you care about.

On December 30, 2005 Dostie was riding in a Humvee conducting patrol operations on one of the deadliest routes in the city of Baghdad. The vehicle Dostie was riding in had maneuvered to avoid the crater left by an IED that recently taken the life another First Sergeant, when a second IED exploded, killing Sgt. 1st Class Shawn Dostie.

While Sgt. 1st Class Dostie grew up all over the United States due to his own father's military career; Shawn, his wife and their two children lived in Kentucky where he was stationed. His children Cameron and Bayleigh were 8 and 5, respectively at the time of his passing. Shawn's 14 year Army career is hallmarked not only by his loving family, but in his awards. He is the recipient of the Bronze Star Medal, Purple Heart Medal, and Army Commendation Medal with two Oak leaf clusters among other awards.