Soldier Honored: David J. Thompson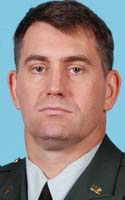 Dates:
Hometown:
Hooker, Oklahoma
Branch of Service:
Army
Rank:
Captain
Army Captain David J. Thompson, known as "J.P.," of Hooker, Oklahoma was assigned to the 3rd Battalion 3rd Special Forces Group of Fort Bragg, North Carolina. On January 29th, while in Wardak Province, Afghanistan, Captain Thompson died while supporting combat operations. He was on his second deployment to Afghanistan.

Enlisting in the Army in 1989 and attending Basic Combat Training at Fort Jackson, South Carolina. During his military career, he has served as a radio telephone operator, team chief, rifle squad leader, and platoon sergeant. In 2002, Captain Thompson completed a Bachelor's degree in Chemistry at East Carolina University while serving in the Guard. He was then commissioned as a chemical officer. Thompson's military education includes, U.S. Army Airborne School, Ranger School, free fall parachutist course, Basic Military Mountaineering course, and the Chemical Officer Basic Course.

Captain David J. Thompson was remembered, by a friend, as "one of the greatest men I ever knew and served with." He left behind his wife, Emily, and their two daughters.