Soldier Honored: Robert J. Marchanti II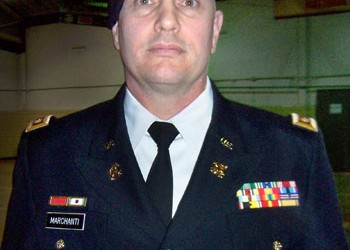 Dates:
Hometown:
Baltimore, Maryland
Branch of Service:
Army National Gaurd
Rank:
Major
Major Marchanti, assigned to 1st Battalion, 29th Infantry Division Security Partnering Team in the Maryland Army National Guard was part of a NATO initiative that paired US troops with Afghan National Police.  He was killed on February 25, 2012 along with Air Force Lt. Col. John Loftis when a gunman attacked the Afghan Interior Ministry.

Major Marchanti II, of Baltimore, Maryland, was a physical education teacher in the Baltimore Public schools who left teaching in 2008 to work full time for the Army National Guard. He was married to his wife Peggy for 25 years and they had four children together.