Soldier Honored: Bryan A. Lewis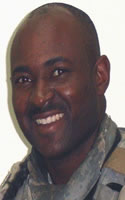 Dates:
Hometown:
Fort Polk, LA
Branch of Service:
Army
Rank:
Sergeant
Sergeant Bryan A. Lewis, 32, of Fort Polk, LA, was assigned to the 519th Military Police Battalion, 49th Military Police Brigade. On March 13th, 2006, Lewis lost his life when an improvised device detonated near his Humvee during convoy operations. He was among fifteen others that lost their lives that day.

Sergeant Lewis joined the Army in June of 1993. He arrived at Fort Polk in 2001. Lewis is remembered as a humble man, who served God, and maintained his family values. A fellow Staff Sergeant that worked stateside with him said, "You had no choice but to look up to him." He was posthumously awarded the Bronze Star and Purple Heart. Lewis left behind a wife, two parents, and three sisters.