Soldier Honored: Eric R. Vick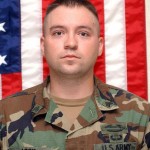 Dates:
Hometown:
Spring Hope, North Carolina
Branch of Service:
Army
Rank:
Staff Sergeant
Army Staff Sergeant, 25, of Spring Hope, North Carolina, was assigned to the 2nd Brigade Special Troops Battalion, 2nd Brigade Combat Team, 10th Mountain Division, based in Fort Drum, New York. On April 1, 2007, an improvised explosive device detonated near his vehicle during combat operations in Baghdad, killing him and three other soldiers.

Staff Sergeant Vick attended Bunn High School and N.C. Wesleyan College, receiving two years of college course credit. In February 2002, he enlisted in the Army. He trained as an infantryman at Fort Benning, Georgia. After that, his first assignment was to the 82nd Airborne Division at Fort Bragg. In November of 2005, he was reassigned to Fort Drum, New York, as a military policeman in the 2nd Bridge Combat Team, 10th Mountain Division. He completed two deployments to Iraq.

He had received several decorations including the Purple Heart and the Combat Infantryman's Badge. He is described as smart and generous and would "give you the shirt off his back if you needed it." He met his wife, Stephanie, in between deployments and married shortly after in September of 2005.