Soldier Honored: Nathaniel A. Caldwell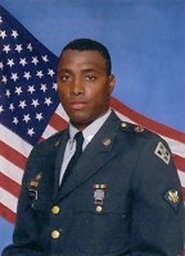 Dates:
Hometown:
Branch of Service:
Army
Rank:
Spc.
Army Specialist Nathaniel A. Caldwell of Omaha, Nebraska was assigned to the 404th Air Support Battalion, 4th Infantry Division. Fort Hood, Texas. On May 21, 2003, during his service in Operation Iraqi Freedom, SPC Caldwell was in Baghdad responding to a civilian call when his car rolled over in a vehicle accident. He died a short time later at the age of 27.

SPC Caldwell grew up in Arizona, but later moved to Nebraska to attend Peru State College. He had a degree in Sports Management and was working at a car rental agency when he decided to join the Army. He became a tank mechanic and in 2002, while on leave in Louisiana, he met his wife. They married a few months later in November of 2002, and he was deployed to Iraq the following March. SPC Caldwell had dreams of being a pastor and possibly starting a counseling center. He was known for his kindness, politeness, and keeping others' spirits up. "He wasn't a fighter, he was a peacemaker," said his wife. "Ever since I've known him, he wanted to be a chaplain."

SPC Caldwell is survived by his wife, a step-child from a previous marriage, and two children; one of which is a Folds of Honor Higher Education Scholarship recipient.