Soldier Honored: Michael H. Simpson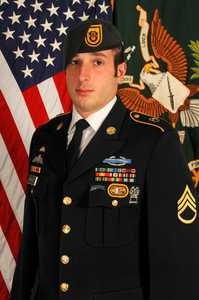 Dates:
Hometown:
Branch of Service:
Army
Rank:
Master Sgt.
Army Staff Sergeant Michael H. Simpson of San Antonio, Texas was assigned to the 4th Battalion, 1st Special Forces Group (Airborne), Joint Base Lewis-McChord, Washington.  He was serving as Special Forces in Afghanistan during Operation Enduring Freedom. SSG Simpson died May 1, 2013 in a Landstuhl, Germany hospital of wounds sustained when insurgents attacked his unit on April 27th. He was 30 years old.

Michael Simpson joined the Army in 2003. His teammates always called him the "Unquiet Professional". That's because, contrary to the unassuming disposition of most Special Forces Soldiers, his association with the Army's elite Green Berets was often the first thing Simpson wanted people to know about him. He was proud of his organization and the distinction.  He was a true professional, his peers all resounded, but he liked to make people laugh, too. Once, the staff sergeant walked into a room singing a song from "Doc McStuffins," a Disney TV show he watched with his two sons. SFC Anderson, a team member of Simpsons, who was familiar with the cartoon, couldn't help but join in.  "No one else in the room had any idea what was going on. He was the life of the team, and his personality was one of his greatest traits. He never failed to put a smile on other peoples' faces", SFC Anderson said.

SSG Simpson's sons are the recipients of the Folds of Honor Children's Fund scholarship.