Player: Chase Sienkiewicz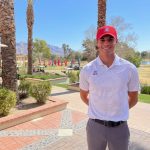 2020-21: Earned GCAA All-American Scholar, Pac-12 Spring Academic Honor Roll, All-Pac-12 Second Team and Pac-12 All-Newcomer Team. Sienkiewicz was in the Wildcat lineup at Pac-12 Championships, the programs first team title since 2004. He finished tied for sixth at 10-under par at ASU Thunderbird Invitational. He shot a career-low 67, twice, at the Thunderbird Invitational.

2019-20: Posted Top-25 finishes in three of his four events.