Player: Britta Snyder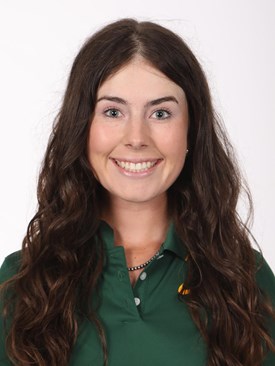 Hometown:
Ames, Iowa
University:
Baylor University
Area of Study:
Kinesiology
Expected Graduation:
2024
Soldier Honored:
Shawn A. Muhr
Sophomore from Ames, Iowa, enrolled prior to fall 2020 season ... Named to 2021 All-Big 12 team... Led the team in 2020-21 with 21 rounds at par or better on her way to a team-best seven top 10's. Her 37 rounds in 2020-21 tied a program record for the most in a single-season... Tied for the lowest round in program history with a second-round 65 at the ICON Invitational in the spring of 2021 on her way to a career-best third-place finish... Finished 2020-21 with the Fourth lowest single-season stroke average in program history... Ranked No. 1 in 2020 signing class by Junior Golf Scoreboard ... Ranked in top-10 of 2020 signing class in Golfweek and Rolex AJGA Rankings ... Named high school first-team All-American by USA Today in 2019 ... Won four AJGA Tour tournaments during prep career ... Won 93rd Iowa Women's Amateur by 13 strokes at age 15 in 2017, becoming tournament's youngest winner since 1930s ... Won high school individual state championships as sophomore in 2018 and junior in 2019 before senior year was canceled due to COVID-19 ... Began her collegiate career ranked No. 643 in WAGR, with 17 career top-10 finishes and five victories in WAGR events.

2020-21 (Freshman): Played in all 12 team events for the Bears in 2020-21... Carried a stroke average of 72.27 across 37 rounds and was second on the team with 83.8% of those rounds counting towards the team score... Notched a top-5 finish in the first event of her career with a t-3 at the Schooner fall classic on the strength of a 67-70 start. A 2-over 73 allowed her to finish in a tie for 3rd at one under... She also finished solo 3rd at the ICON Invitational thanks to a 65-68 in the final two rounds on her way to a three-round total of 10-under 206...

She had a below-par percentage of 21.2% with 141 eagles and birdies which led the Bears last season...



Prior to Baylor: Attended Gilbert High School in Ames, Iowa ... Two-time high school individual state champion (2018 and 2019) ... Four-time winner on AJGA Tour, including 2020 D.A. Points Championship (70-70-69), 2019 Randy Wise Junior Open (72-74-70), 2017 Randy Wise Junior Open (75-72-73) and 2017 AJGA Junior at Forest Lake (72-75-70) ... Won 93rd Iowa Amateur (73-70-73) at age 15 in 2017, becoming tournament's youngest winner since 1930s ... Recorded 23 career top-10 finishes on AJGA Tour ... Six-time USGA championship qualifier ... Throughout junior career, recorded top-20 finishes at Western Am, Eastern Am and Southern Am, and recorded top-5 finish at Bubba Conlee ... Set state's high school scoring average record for all classes in 2019 with 18-hole average of 4.1 strokes under par ... Two-time Iowa Golfer of the Year.

Personal: Born in Ames, Iowa ... Parents, Chad and Lisa Snyder, both played golf at Missouri State and professionally ... Uncle, Jay Horton, was Iowa State men's golf head coach from 2000 through 2010 ... Majoring in health, kinesiology and leisure studies.