Player: Rob Wuethrich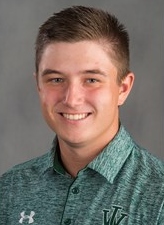 Hometown:
Bloomington IL
University:
Illinois Wesleyan University
Area of Study:
Accounting
Expected Graduation:
2021
Soldier Honored:
Justin S. Smith
Averaged 73.2 strokes per round over twenty-six rounds ... Shot a season-low of 68 at the Take Back The Night ... Winner of national 2018 Phil Mickelson Freshman of the Year Award ... One of six Division III finalists for Mickelson Award ... Division III PING All-Region honoree ... Named "Men's Golfer of the Week" in the College Conference of Illinois and Wisconsin on April 24 (Millikin Invitational) ...