Player: Matt Organisak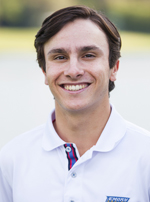 Hometown:
Sudbury, MA
University:
Emory University
Area of Study:
Quantitative Sciences
Expected Graduation:
2020
Soldier Honored:
Matthew D. Huston
Enjoyed another banner season that saw him land his second straight berth to the PING All-America Second Team ... PING All-South Region selection ... Led the team with a 73.2 strokes average over 25 rounds, the second-best school seasonal mark ... Named the UAA Player of the Year for the second straight season ... First Team All-UAA honoree ... Selected as UAA Player of the Week on three occasions ... One of 30 D-III semifinalists for the Jack Nicklaus Award ... Rang up a team-leading 12 rounds of par or better and registered four top-five overall finishes ... Ranked as Emory's top finisher in four tournaments ... Co-medalist out at the 54-hole Rhodes College Fall Classic (99 players), shooting a 10-under par 206 (71-67-68), a school record for a three-round tourney, bettering the previous mark of 212 (Ryan Dagerman, 2012 Marine Federal Credit Union) ... His second-round 67 at the Rhodes College Fall Classic was a career best and tied the program's fifth-best 18-hole outing ... Earned UAA Golfer of the Week accolades (Mar. 20) after winning a pair of match-play competitions at the league championships and then leading the squad while placing 11th out of 150 players at the Jekyll Island Collegiate Invitational, compiling a 54-hole...UAA Golfer of the Week after placing first on the team and third out of 83 entries at the Discover DeKalb Emory Spring Invitational, shooting an even par 140 (68-72), with his first-round performance tying his second-best 18-hole score ... Shot an opening-round 69 on the first day of play at the NCAA D-III Championships, which at the time set a school record for the top individual 18-hole score at nationals ... Ended the NCAA Championships second on the club and 18th on the leader board with a five-over par 293 (69-76-73-75), the program's fifth-best ever individual mark ... Tied for medalist honors out of 102 players at the weather-shortened Callaway Gardens Intercollegiate with a three-under par 69 ... UAA Championships All-Tournament Team.