Player: Matt Organisak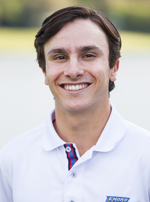 Hometown:
Sudbury, MA
University:
Emory University
Area of Study:
QSS w/ Economics
Expected Graduation:
2020
Soldier Honored:
Travis L. Manion
2016-17 (Freshman)



Named as a Second Team All-American, First Team All-UAA, and PING All-South Region Team


Second on the team with an average of 74.08 strokes over 23 rounds of play, good for fifth place on the school's seasonal ladder


Named as one of 30 D-III semifinalists for the Jack Nicklaus Award


Tabbed as the UAA Player of the Year and Rookie of the Year


UAA All-Tournament Team after winning both of his match-play contests at the league championships


Recorded five rounds of par or better


Named UAA Player of the Week (Oct. 10) following his performance at the Oglethorpe/Royal Lakes Fall Invitational where he paced the Eagles' effort and finished fifth out of 102 players with a 36-hole score of four-under par 140 (70-70), with that effort tying the program's fourth-best effort for a two-round tourney, and tying with Rod Olivero for the top Emory score at that event


Tied for first on the team and fifth overall on the 95-player leader board at the Golfweek DIII Fall Invitational (Oct. 9-11) with a one-over par 214 (74-71-69), tying the program's third-best effort for a 54-hole event


Best round of the year came on the final day of the DIII Fall Invitational when he carded a two-under par 69


Top on the team and tied for 10th out of 102 entries at the Callaway Gardens Invitational (Mar. 6-7), registering a four-over par 148 (74-74)


Ranked second among the Emory contingent and stood 10th out of 150 hopefuls at the Jekyll Island Collegiate (Mar. 17-19) with 54-hole mark of 218, which included a two-under par 70 during the second day of action.