Player: Lee Hodges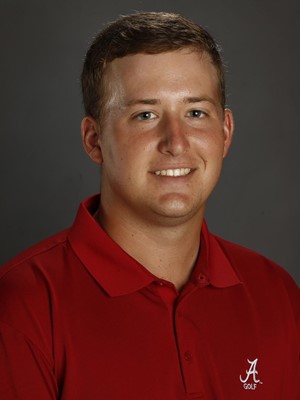 Hometown:
Ardmore, AL
University:
University of Alabama
Area of Study:
Consumer Science
Expected Graduation:
2018
Soldier Honored:
Jeffrey Ausborn
Overview



Transferred from UAB and enrolled in Alabama in August, 2016

Immediately eligible to play for the Tide and will have two years of eligibility remaining

Was a two-time all-conference performer at UAB, including being named the 2015 Conference USA Freshman of the Year

Helped lead Blazers to back-to-back NCAA Tournament appearances

Provides leadership, experience and consistency to the Crimson Tide

2017-18 (SENIOR)


Played a key role in the season opening match finishing 2nd for Alabama and tied for 9th overall while shooting 211 (74-67-70) as the Crimson Tide finished tied for 1st with Georgia Tech in the Carpet Capital Collegiate.

2016-17 (JUNIOR)


Named PING All-Region

Only golfer to have played in all 12 events on the year

Had 30 of his 33 rounds count towards the team score

Closed the season ranked No. 79 nationally by the Golfweek/Sagarin Index Player Performance Ranking

Won the Desert Mountain Intercollegiate with a 10-under 206 (69-68-69)

As a result, he was named the SEC Men's Golfer of the Week (March 8)

Boasted a team-best 13 rounds in the 60s

Second on the team with a 71.91 average and second in average against par (0.33)

Had four top-10 finishes over the final seven tournaments and scored par or better in 21 of 33 rounds

Placed third at the Jerry Pate National Intercollegiate where he finished with a 4-under par 206 (70-69-67)

Season-best 18-hole score of 3-under par 67 in the final round of the JPNI

Tied for third at the Mason Rudolph Championship with a season-low 205 (69-68-68)

Was tied for 8th place at the NCAA Washington Regional where he shot a 1-under 212

Finished in a tie for 10th place at the Linger Longer Invitational with a 5-under 211 (71-68-72)

Placed in a tie for 20th at the Clemson Invitational with a 222 (81-69-72)

Tied for 30th in his Alabama debut at the Carpet Capital Collegiate with a 2-over par 218 (68-73-77)

Finished stroke play at the SEC Championships tied for 36th with a 216 (73-69-74)

Won both of his rounds in match play at the SEC Championships to improve to 2-1 in match play for the year

Tied for 40th at the Olympia Fields/Illini Invitational after shooting a 12-over 222

Placed in a tie for 52nd at the Puerto Rico Classic with a 226 (71-84-71)

Shot a 229 (70-75-84) at the NCAA Championships

2013-16 (AT UAB) 2015-16 (SOPHOMORE)


Named First Team All-Conference USA

Competed at the NCAA National Championships finishing 152, shooting 220 (+10)

Helped lead team to a third-place finish at the Marana Regional to advance to the NCAA Championships

Named Conference USA Golfer of the Week for the week of Sept. 30 after a first place finish at the Shoal Creek Invitational (Sept. 28-29), shooting a 211 (-5)

Competed in 13 tournaments for the Blazers, finishing in the top-20 in nine events

Shot 16 rounds at or under par, including a streak of four straight

Finished the year with a 72.61 stroke average

Member of the Conference USA Commissioner's Honor Roll.

2014-15 (FRESHMAN)


Named 2015 Conference USA Freshman of the Year

Earned a spot on the All-Conference USA First Team as well as All-Freshman Team

Had a team-best four top-five finishes, including tying for third at the 2015 C-USA Championship

Earned a spot on the C-USA All-Tournament team for third place finish after scoring a 215 (-1) in the stroke play portion

Led UAB with five tournaments at or under par and was second with 15 rounds at or under par

Shot a career-low round of 67 and career-best 54-hole score of 203 at The Goodwin

Competed at the 2015 NCAA Championships, finishing tied for 135th with a 235 (+19)

Finished T-20th at the NCAA Bremerton Regional with a 214 (-2)

Had career-best finish of second at the Inverness Intercollegiate in just second collegiate tournament.