Player: George Cunningham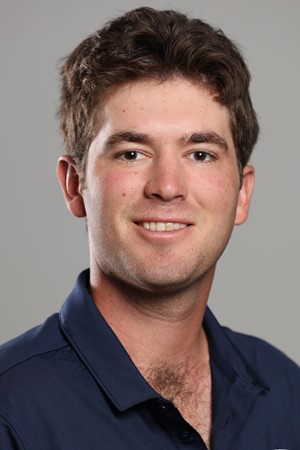 Hometown:
Tucson, Arizona
University:
University of Arizona
Area of Study:
General Studies-Economy and Industry
Expected Graduation:
2018
Soldier Honored:
Chris "Fireball" Cooper
2016-17 (Junior)



Competed in all 12 tournaments for the Wildcats posting a team-low 73.06 stroke average


Recorded a pair of top-10 finishes and five top-20 finishes


Posted a 212 (-1) at the Saint Mary's Invitational to take third


Set a career low 54-hole score of 210 (-6) at the National Invitational to tie for eighth


Notched a 211 (-2) at the ASU Thunderbird Invitational to tie for 16th


Recorded a 215 (+2) at the Duck Invitational to tie for 13th


Recorded a 219 (+6) at the Arizona Intercollegiate to tie for 17th


Recorded a 225 (+15) at the Pac-12 Championships.


2015-16 (Sophomore)


Held a 75.33 stoke average through three events


Tied for 53rd at Nike Golf Collegiate Invitational scoring a 219 (+4)


Notched a 231 (+15) playing as an individual in the National Invitational


Recorded a 228 (+12) at Lamkins Grips San Diego Classic.


2014-15 (Freshman)


Named to All-Pac-12 second team and earned spot on All-Pac-12 freshman team


Posted a 71.6 strokes per round average on the year


Average tied for second on UA's freshman single-season list and tied for 10th on all-time single-season list


Notched 19 rounds of par or better with six top-10 finishes and nine top-20 finishes


Qualified for NCAA Regional in San Diego, finishing in a tie for 21st


Topped Arizona roster at Pac-12 Championship with a tie for third place carding 276 (-4)


Added a top-20 finish with a 216 (+6) at the Western Intercollegiate


Took eighth at the Lamkin San Diego Classic by posting 214 (-2)


Runner up at National Invitational Tournament with a 212 (-4)


Tied for fourth with a 212 (-4) at the John Burns Intercollegiate


Played with Jim Furyk in Northern Trust Open Collegiate Showcase and took second with 72 (+2)


Added another top-20 finish with a share of 13th in the Arizona Intercollegiate carding 213 (E)


Finished tied for 18th with a 214 (-2) at the Quail Valley Intercollegiate


Tied for sixth at the Southwestern Intercollegiate after notching a 215 (+2).