Soldier Honored: John E. McGee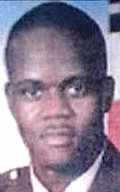 Dates:
May 2, 2005
Hometown:
Columbus, GA
Branch of Service:
Army
Rank:
Sergeant
Sergeant John McGee, 36, of Columbus, Georgia was assigned to the 2101st Transportation Company, Alabama Army National Guard, Camden, Alabama. On May 2, 2005, while serving during Operation Iraqi Freedom, SGT McGee was lost when an improvised explosive device detonated near his convoy vehicle near Diwaniyah, Iraq.

A 1986 graduate of Rolling Fork High School, SGT McGee enlisted in the Army when he was 17 and served 8 years before joining the National Guard in 1996. He had completed a program to become a lieutenant but had not yet been commissioned. He also worked for a home health agency in Georgia at the time of his deployment. He is often remembered as someone who was always walking around smiling and could bring a smile out of anyone he met. He was the nicest guy you would want to meet in your life," said Undray Williams, a friend since high school.

"He would always say adapt and overcome and I find myself saying the same thing," SGT McGee's daughter said. "Adapting can be hard but eventually if I don't give up, I will overcome. In my baby memory book, he wrote that he wanted to be the type of father that his children would be proud of and that is exactly how we feel. I am super proud of my dad for being the man he was. I know he loved us and wanted the best for us.".

SSG McGee's daughter is a Folds of Honor scholarship recipient.