Soldier Honored: Michael T. Fiscus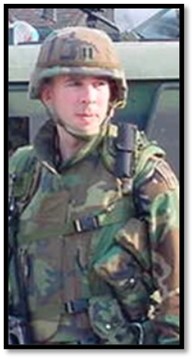 Dates:
Died March 26, 2005
Hometown:
Milford, IL
Branch of Service:
Army National Guard
Rank:
Captain


Captain Michael Fiscus, 36, of Milford, Indiana was assigned to the 76th Infantry Brigade, Indiana Army National Guard, Indianapolis, Indiana. CPT Fiscus was killed on March 26, 2005, when a mine detonated near his military vehicle in Kabul, Afghanistan.

A graduate of Decatur High School in Oberlin, Kansas, CPT Fiscus began his military career with the Indiana Air National Guard as part of the 1-293rd Infantry "Nighthawks" and later joined the Army National Guard's 76th Infantry Brigade. He earned his bachelor's degree from Indiana University -Purdue and was a graduate of Volunteer Flight School. He was deployed to Afghanistan in 2004 in support of Operation Enduring Freedom. While in Afghanistan, his mission was to train local Afghan military units as part of the Coalition Joint Task Force Phoenix II. He was a dedicated soldier and distinguished officer, earning many awards for his service including the Purple Heart and Bronze Star. Additionally, in 1993 during Officer Candidate School, he received the Jess Walls Distinguished Officer Candidate Award. He also received the "Eye of the Hawk" and "Rock Hard" awards for Meritorious Service from ECHO Troop, 238th Cavalry.

CPT Fiscus was a loving and committed father. He had a tremendous sense of duty and was a man of his word. He impacted the lives of everyone around him including family, friends, and his community.

Both of his daughters are recipients of the Folds of Honor Scholarship.